Choosing An Alarm System
Selecting the right alarm system can seem like a daunting task but this document should provide some insight to make the decision much simpler. Or just give us a call for assistance.

ALARM SYSTEMS COMPARISON SHEET

Wired Or Wireless
Wired alarm systems are excellent where one has the skill or access to run wiring to all panel, keypad and sensor locations. Wired sensors are typically less expensive and don't require batteries so they always work with virtually no maintenance. Wireless sensors are much faster and easier to install but they are typically more expensive and the batteries need to be replaced every 1-5 years depending on the brand and model of sensor. Often times the additional cost of the sensor is less important than the time and labour saved in trying to run wires.

User/Installer Skill Level
Truth be told, ANY alarm system can be installed by an end user given enough time, patience, knowledge and skill. Several of our alarm systems are squarely aimed at simple do-it-yourself installation so that practically anyone can install and configure them in no time at all. These tend to be wireless systems. With the more advanced or hardwired systems and those with professional level features, more patience and skill will be required. In some cases the user may choose to have the system professionally installed and programmed to save time and ensure performance.

WHICH SYSTEM TO CHOOSE?
With the above factors in mind, here's a brief overview of our most popular alarm systems and their main attributes.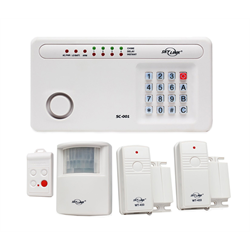 Skylink Wireless alarms are aimed squarely at do-it-yourself installations, so they are very easy to install and use, with little to no programming required. They're great for small homes or very small businesses.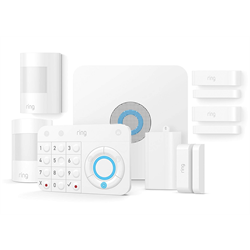 The Ring Wireless alarm system is a great home alarm offering free self monitoring using an iOS or Android phone app. It can be armed and disarmed remotely using the app. The system is available as a starter kit including the main alarm, motion sensor, door/window sensors and remote. It connects to your home's WiFi network and uses Internet for monitoring and control. An optional paid subscription is availabile to provide cellular backup as well as professional monitoring. The Ring Wireless Alarm can be expanded by adding Ring security cameras, Ring doorbell and select options like a ZWave lock.
SkylinkNet Wireless Internet Enabled Alarm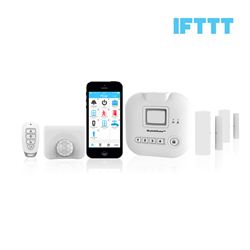 The SkylinkNet home alarm is a wireless alarm system with free self monitoring. It connects to your home's WiFi network and uses the Internet connection to provide push notifications and remote control using an iOS or Android app. The starter kit comes with a motion and door/window sensor. Larger kits are available and the system can be expanded by adding additional sensors, Skylink cameras, and even appliance control modules. There is no professional monitoring or cellular backup option.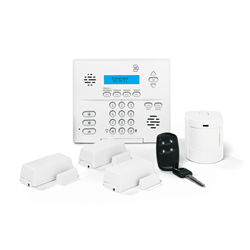 Simon XT and Simon XTi wireless alarm systems provide professional features mixed with user friendly operation. These alarm systems offer remote telephone control over a POTS (plain old telephone system) and voice menus. They offer alarm notification by telephone with optional paid professional monitoring by phone or cellular. The menu driven programming is very user friendly for a pro level system. Excellent choice for home or small business.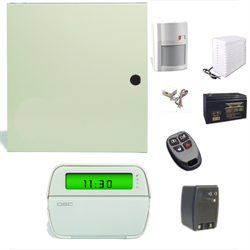 Available in wireless only, hybrid or wired only systems. DSC security systems are aimed at pro installers and can be operated by pretty much anyone. They are surprisingly inexpensive despite their power and quality. Installation and programming are somewhat technical but we do have some knowledgebase articles to assist and there are some excellent user forums with lots of information if you are willing to take the time to learn. Designed to be professionally monitored or they can be self monitored by calling a private telephone number in case of an alarm. DSC Powerseries PC1616/PC1832/PC1864 systems can have an EVL4 Internet card added for free remote control and notifications with optional paid professional monitoring. Cellular cards are available to add to DSC systems through pro installion and monitoring companies.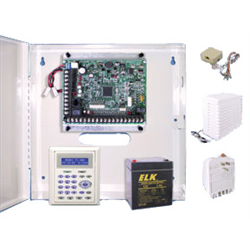 Elk is our flagship product and is a hardwired system with options for adding wireless sensors and fobs. Self or professionally monitored. M1 Gold has built-in voice, remote telephone support. Gold and M1EZ8 support add-on ethernet modules for web monitoring/control and email alerts. Advanced rules based if-then programming and support for X10, Insteon, UPB, ZWave, Centralite, thermostats and more, make these systems uniquely suited for home automation and technical enthusiasts. Powerful enough to be used for almost any environment including access control. If you can think of it, you can probably do it with Elk.


Still need help? No problem, just contact us online or by phone!