Choosing An Alarm System
Alarm systems provide peace of mind and help protect your home or business against burglars and vandals. They can act as a deterrent and may scare away a would-be thief before they try to break in or when they hear the siren. Most alarm systems can either contact the home owner directly (self monitored) or they may be professionally monitored.
LEARN ABOUT SECURITY ALARM SYSTEMS FOR HOME AND BUSINESS
Selecting the right alarm system can seem like a daunting task but this document should provide some insight to make the decision much simpler. Doing it yourself means taking some time to research and plan your system but the rewards are a custom system that suits your unique needs plus bragging rights when showing it off to friends. If you need help you can reach out by email or phone and we'll be pleased to assist.
WIRED VS WIRELESS ALARM SYSTEMS
When discussing wired vs wireless alarm systems we're referring to the sensors and whether they are connected to the alarm system by wires or without. The term may also be referencing wired vs wireless keypads. Sensors are typically used to detect when a door or window opens, when someone walks by (motion), when a window is broken (glass break). Wired security sensors are excellent where one has the skill to run wiring to all panel, keypad and sensor locations. This is more practical with new construction, unfinished homes or basements. Wired sensors are typically less expensive and don't require batteries so they always work with virtually no maintenance.
Wireless sensors are much faster and easier to install but they are typically more expensive and the batteries need to be replaced occasionally. Often times the additional cost of the sensor is less important than the time and labour saved in trying to run wires. A wireless sensor may be installed in 5 or 10 minutes while it could take hours to run wires and drill holes to install a wired sensor.
COMMUNICATION FOR ALARMS AND ALERTS
When the alarm is triggered, a siren(s) will typically sound to let occupants know about a problem and hopefully scare away the intruder. An outdoor siren or strobe may be used to alert neighbours.
Additionally the system can potentially alert the homeowner via a call, email, text message or pop-up notification on an app. These notifications are dependant on the system's capabilities and options installed.
Traditionally alarms used a POTS (plain old telephone system) phone line to call a central station (see below). Or a voice dialer may be added to an alarm system and the dialer will call and play a message to the programmed number(s). Phone lines are rarely used any more as homeowners ditch them in favour of voip or cell phones.
Newer systems may use the Internet to communicate to a self monitored cloud system or to a professional monitoring station. Internet connections in most major cities are quite reliable. But many home and business owners may opt for cellular communcation as primary or backup. Keep in mind however that cellular communication will require paid monitoring which will include the cellular data needed.
SELF MONITORED ALARM VS PROFESSIONAL MONITORING STATION
Many customers prefer to be notified directly in case of a security event. Self monitoring can provide peace of mind and in some cases the system can be armed and disarmed remotely as well.
However there are some limitations to self monitoring. The home owner may be out of town, on vacation or unavailable when the alarm system tried to contect them. Or they may be in a bad cellular coverage area where the phone doesn't work. If the system is being used to monitor for fires, will you hope you're available and the message isn't delayed? Or would you rather know that a 24/7 monitoring station will call the fire department for you?
Many people feel that professional monitoring isn't worth it due to cost or because the police will be too slow to respond or will not respond at all. Most insurance companies will offer a discount on their premium if a professionally monitored alarm is installed. Additionally, the monitoring company can be instructed to call the homeowner, neighbour or friends in case of an alarm. Or a paid guard service may be dispatched for a fee.

INSTALLER SKILL LEVEL
Truth be told, ANY alarm system can be installed by an end user given enough time, patience, knowledge and skill. Several of our alarm systems are squarely aimed at simple do-it-yourself installation so that practically anyone can install and configure them in no time at all. These tend to be wireless systems. With the more advanced or hardwired systems and those with professional level features, more patience and skill will be required. In some cases the user may choose to have the system professionally installed and programmed to save time and ensure performance.
WHICH ALARM SYSTEM DO I CHOOSE?
With the above factors in mind, here's a brief overview of our most popular alarm systems and their main attributes.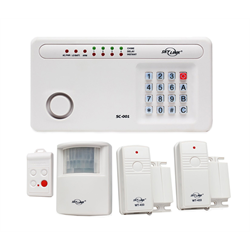 Skylink Wireless alarms are aimed squarely at do-it-yourself installations, so they are very easy to install and use, with little to no programming required. They're great for small homes or very small businesses.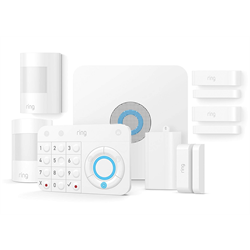 The Ring Wireless alarm system is a great home alarm offering free self monitoring using an iOS or Android phone app. It can be armed and disarmed remotely using the app. The system is available as a starter kit including the main alarm, motion sensor, door/window sensors and remote. It connects to your home's WiFi network and uses Internet for monitoring and control. An optional paid subscription is availabile to provide cellular backup as well as professional monitoring. The Ring Wireless Alarm can be expanded by adding Ring security cameras, Ring doorbell and select options like a ZWave lock.
SkylinkNet Wireless Internet Enabled Alarm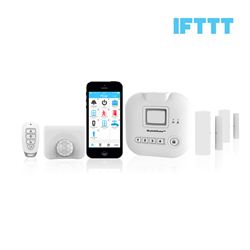 The SkylinkNet home alarm is a wireless alarm system with free self monitoring. It connects to your home's WiFi network and uses the Internet connection to provide push notifications and remote control using an iOS or Android app. The starter kit comes with a motion and door/window sensor. Larger kits are available and the system can be expanded by adding additional sensors, Skylink cameras, and even appliance control modules. There is no professional monitoring or cellular backup option.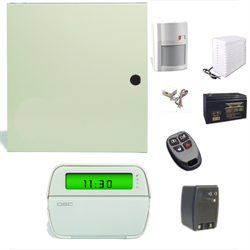 Available in wireless, wired or hybrid, DSC security systems are aimed at pro installers and can be operated by pretty much anyone. They are surprisingly inexpensive despite their power and quality. Installation and programming are somewhat technical but we do have some knowledgebase articles to assist and there are some excellent user forums with lots of information if you are willing to take the time to learn. Designed to be professionally monitored or they can be self monitored by calling a private telephone number in case of an alarm. DSC Powerseries PC1616/PC1832/PC1864 systems can have an EVL4 Internet card added for free remote control and notifications with optional paid professional monitoring. Cellular cards are available to add to DSC systems through pro installion and monitoring companies.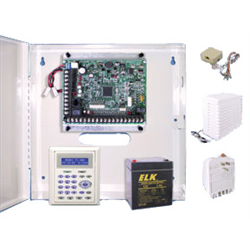 Elk is our flagship product and is a hardwired system with options for adding wireless sensors and fobs. Self or professionally monitored. M1 Gold has built-in voice and alarm announcements, can dial out and play messages to phone and supports remote control by POTS telephone line. The M1 Gold and M1EZ8 support add-on ethernet modules for web monitoring/control and email alerts directly to the user. Advanced rules based if-then programming and support for Insteon, UPB, ZWave, Centralite, thermostats and more, make these systems uniquely suited for larger installs, smart home automation and tech enthusiasts. Powerful enough to be used for almost any environment including access control. If you can think of it, you can probably do it with Elk.

ALARM SYSTEMS COMPARISON SHEET

Still need help? No problem, just contact us online or by phone!