Understanding the Types of Smoke Detectors & What is a Good Fit for Your Home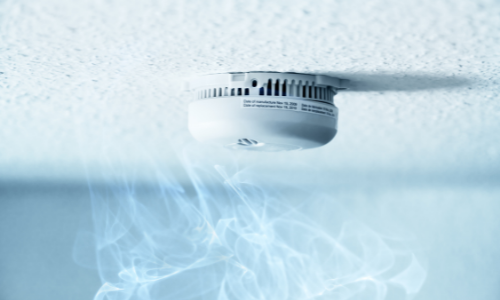 Smoke detectors are life-saving devices designed to keep you and those you care about safe from fire-related hazards. In fact, a properly installed fire detector will provide an early warning in the event of a potentially devastating fire, decreasing your risk by almost 50% of dying or being seriously injured by a fire in your home. Given that they are inexpensive to purchase and maintain, there's no excuse not to install smoke detectors in your home, including a fire alarm on every level, within each bedroom, and in the hallways leading to sleeping areas.
If you're in the market for new smoke detectors for your home, you may be overwhelmed by the variety of options available. While all types and models of smoke alarms will provide critical protection, some include features that may appeal to you, offering further peace of mind.
Here is what you need to know about the different types of smoke detectors, our recommended products, and how to choose a good fit for your home.
Smoke Detector Features
Smoke Detection Technology: Ionization vs. Photoelectric
When shopping for smoke alarms, it's important to understand the two primary forms of smoke-detection technology: ionization smoke detection and photoelectric smoke detection. Ionization smoke alarms are triggered when smoke enters the chamber, altering an ionized current between two electrically charged plates and activating the alarm. These are typically more responsive to flaming fires.
Alternatively, photoelectric detectors are triggered when smoke entering the chamber reflects light onto a sensor, triggering the alarm. These detectors are especially responsive to smouldering fires that produce large quantities of thick smoke over a prolonged period before igniting into flames.
You never know what type of fire may endanger your lives and damage your property. Hence, it's advised to get both types of smoke detectors for your home. However, certain smoke detectors called dual-sensor models can pick up both smouldering and fast-burning fires.
Power Source: Battery-powered vs. Hardwired
Hardwired alarms are wired into your home's power source and are interconnected. So, if one alarm goes off, it will trigger the rest of the smoke alarms installed inside your home. They often include backup batteries so that you remain protected in the event of a power outage.
Standalone battery-powered smoke detectors, on the other hand, use batteries as their power source. This means that in an emergency, multiple devices cannot signal each other. However, there are a few exceptions.
The upside to battery-operated models is that they're much easier to mount than hardwired smoke detectors. Talk to an expert in smoke alarm technology to help determine which types of smoke alarms you should look for based on the layout and features of your home.
Types of Smoke Detectors
Smoke Alarms with Carbon Monoxide (CO) Detection
It's not just fires that you need protection against - Toxic gases such as carbon monoxide pose a grave danger to your life and that of your loved ones as well. Combination smoke and carbon monoxide alarms make it easier to protect yourself and your family against both deadly dangers, saving you space and the need to test and replace batteries in separate devices. These alarms are equipped with sensors to detect abnormal levels of CO (an odourless, colourless, tasteless gas) and alert you when it exceeds the safety limit.
Combination detectors can use ionization or photoelectric smoke detection technologies (or both) and can be battery-operated, hardwired, or Wi-Fi-enabled.
We recommend:

Safeguard your home with this combination Smoke/CO detector with Battery Backup that can be seamlessly interconnected with existing detectors in your home, triggering all alarms if any single unit detects smoke or CO. The package also includes a wiring harness and mounting bracket for easy installation.
Standard Battery-Operated Smoke Detectors
If you're looking for cost-effective simplicity and reliable protection, a battery-operated smoke detector may fit the bill. These smoke detectors run on 9-volt or AA batteries. The average lifespan of these detectors is 8-10 years, after which the entire unit needs to be replaced. Since they don't have to be hardwired into your home's power supply, battery-operated smoke detectors can easily be mounted in a minute or two. However, since the battery is their sole power source, it's crucial to replace batteries regularly to prevent power drainage and ensure you're consistently protected.
Standalone smoke detectors are recommended for small, single-level homes, cabins, and cottages.
We Recommend:

With this First Alert Battery-powered Smoke Detector, you can safely guide your family out of harm's way. This affordable smoke alarm is equipped with a theft protection lock and has a 10-year limited warranty. It uses ionization technology to detect fast-burning fires.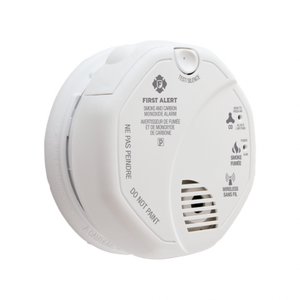 This Zwave Smoke Detector is another popular battery-powered CO/smoke detector that comes with a 7-year limited warranty. It is a photoelectric smoke sensor, ideal for detecting slow-burning fires.
Wi-Fi-enabled Smoke Alarms
It's important to protect your home and personal belongings, even when you're away. This is where Wi-Fi-enabled smoke detectors come in handy, alerting you of a fire, not only when you're in your house but wherever you are! These smart devices connect to your smartphone through an app, sending a notification if it detects CO or smoke, allowing you to contact the fire department to avoid severe damage immediately. Some models will not only send an audio alert, but will also include helpful voice instructions detailing which alarm was activated (CO or smoke) and the severity of the situation.
We Recommend:

This First Alert Wi-Fi and HomeKit enabled smoke & CO alarm is the perfect choice for your home if you're looking for a sophisticated smoke detector that goes above and beyond. The smoke detector speaks to you in a clear, intelligible voice, directing you to which room in your home is involved. What's more, it includes a multi-use wiring harness allowing you to replace your current CO/smoke detector without any rewiring. Additionally, it interconnects seamlessly with other wired detectors in your home, allowing you to replace only one detector to enjoy the full scope of smart features.
LED-Based Strobe Smoke Detectors
LED Strobe Light Smoke Alarms are highly effective and efficient in warning those who are deaf, deafened or hard of hearing that there are CO or smoke dangers in the home. During an emergency, an LED light is triggered, which is, without a doubt, a life-saver for individuals who may not hear an alarm going off.
We Recommend:

Check out this photoelectric First Alert Smoke & CO detector with a built-in LED strobe that alerts you about the presence of both carbon monoxide and smoke in your home. This hardwired version model also features a built-in battery backup and a 10-year warranty. Moreover, the LED strobe flashes different patterns for CO vs smoke.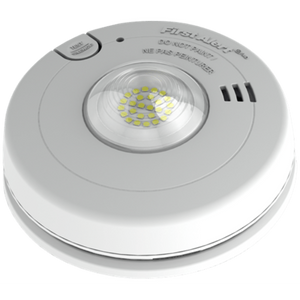 This slim and compact Wired Smoke Alarm with LED Strobe is another excellent option. However, it doesn't feature a CO detector.
Smoke Detector Maintenance
No matter what type of smoke detector you choose, here are some basic maintenance tips to ensure that your device receives the TLC it needs to keep you and your home safe:
Smoke detectors are constantly exposed to airborne contaminants, accumulated dust, corrosion, and even creepy crawlies! As well as occasionally wiping down the surface of your device, you may use surface insect spray to prevent infestations around the smoke detectors in your home or office. However, be sure to cover the smoke alarm so that you don't accidentally spray the inside of it.
You will find a replace-by date printed on your smoke detector. However, it's best to replace it after ten years of use because its components may no longer be as efficient and reliable.
Not all battery-powered smoke alarms come with replaceable batteries. Check the instructions provided by the manufacturer, and if they are indeed replaceable, you should do that at least once a year.
For more great tips, check out The Government of Canada's general smoke alarm testing and maintenance guidelines.
Many fire-related deaths are preventable with functioning smoke detectors that are properly installed where they need to be to provide the warning and protection you need around the clock. And thanks to innovations in smoke detection technology, keeping your family, home, and belongings safe has never been smarter.
Explore Aartech Canada's full collection of Smoke, Carbon Monoxide & Gas Detectors today!