Do It Yourself Alarm Systems
Looking for an alarm system for your home, business or cottage but you don't want to pay any monthly fees or installation fees? Then a do it yourself alarm may be just what the doctor ordered. Most of these alarm systems are meant to be end user friendly so you can do it yourself or with a handy friend or family member.
These do it yourself alarms can be self monitored rather than paying for professional monitoring. In case of an alarm the notification goes to the home owner, family or neighbour by way of a phone call or a smart phone notification.
Self monitored alarms are popular in areas where the police are known to take too long to respond or where the user doesn't want to pay any monthly fees. Keep in mind you cannot have the alarm system automatically call directly to police or fire. The notification goes to the user who decides how to handle it.
Here are our most popular do it yourself (DIY) kits.
---
Simple Alarms & Personal Alarms




For basic protection of single rooms, entrances, dorm rooms, small apartments, cottages, etc these alarms provide basic intrusion notification with very simple installation and little or no programming required.
---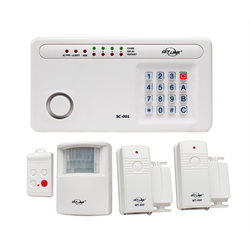 The Skylink SC-100 and SC-1000 Alarm System is aimed squarely at the do-it-yourself installer who wants a local alarm and possibly a telephone dialer. It uses wireless sensors and installation is very easy with very little programming required. The main alarm which houses the keypad can be mounted at the entrance. When the alarm trips, a loud siren sounds to scare off the intruder and warn anyone nearby. The SC-1000/SC-1001 adds a voice dialer that can call out by telephone to one or more contacts in case of an alarm.
---
SkylinkNet Internet Enabled Wireless Alarm System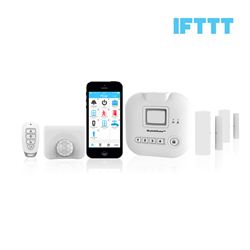 The SkylinkNet alarm system is do it yourslf and self monitoring friendly, with simple installaton and cloud remote access and smart phone alerts. It employs wireless sensors and uses your home's Internet connection to allow the user to arm, disarm and check status remotely using an iOs or Android device. It sends push notifications to the user's app in case of an alarm. In addition it supports IFTTT for integration with any number of automation systems from other manufacturers making it very flexible.
---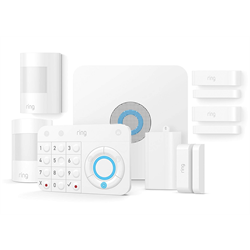 The Ring Wireless alarm system is a great home alarm offering free self monitoring using an iOS or Android phone app. It can be armed and disarmed remotely using the app by any member of the household. It also allows optional smart home integration with Z-Wave locks and lights. The Ring wireless alarm system is available as a starter kit including the main alarm, motion sensor, door/window sensors and remote. It connects to your home's WiFi network and uses Internet for monitoring and control. An optional paid subscription is availabile to provide cellular backup as well as professional monitoring. The Ring Wireless Alarm can be expanded by adding Ring security cameras or a Ring doorbell.
---
GE Interlogix Simon XT Wireless Alarm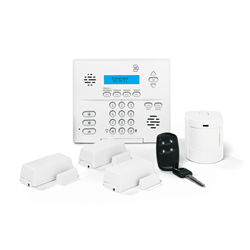 The Simon XT is an all-in-one alarm system that just needs to be wired to power and your phone line to provide home or small business security. It has built in voice prompts that make it easier to use, and it can call out in case of an alarm for self monitoring. The sensors are all wireless so they install quickly and easily. As an option it can be professionally monitored.
---
DSC Wired or Hybrid Alarm Systems
DSC alarm systems are generally regarded as industry standard professional systems that can use entirely wired alarm sensors, or by adding a wireless receiver or keypad/receiver combination, they can also accept wireless sensors, wireless key fobs and even fully wireless keypads. These are professional systems and require more patience and some technical inclination to program and install but many of our customers do a great job installing them on their own or with a little help from us. These systems can be professionally monitored, or they can call a private telephone number on alarm, or by adding the new Envisalink EVL-3 Internet module they can be managed, armed and disarmed by Internet Enabled smart phone with ZERO monthly fees!
---
Elk M1 Gold Alarm and Automation System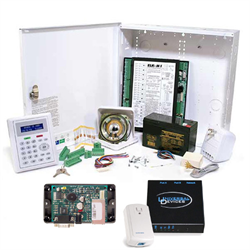 The Elk M1 Gold is a home automation enthusiast's dream. It combines a complete professional alarm system capable of wired and wireless expansion, with Internet abilities and a powerful set of programmable rules and ability to link with automation products like INSTEON, ZWave, UPB and more. The M1 Gold has a vocabulary of over 500 words to announce zones, scare away intruders, play reminders and more. Any phone inside or outside the home can be used to control this system as well.
The M1 Gold is so flexible we've seen it used in homes from 1500 to over 10,000 square feet, commercial properties, as an access control system... heck we've even seen it used to control bicycle lifts from an iPad in a boutique bike shop. If you can think of an application, the M1 Gold is up to the task.
---
Copywrite Aartech Canada Inc. May not be copied, reproduced or used in any form without express written consent.