Smart Home Automation
Smart Home Automation was a term that no one understood just a few years ago, and the idea of putting together a home automation system was enough to make people's eyes glaze over in confusion. Today, smart home devices are everywhere. We dive into the most popular technologies in this guide.

Today's Smart Home is attracting all kinds of press and interest from all of the major electronics players from big box stores to alarm installers and custom home automation companies. This new paradigm shift has gone a long way to helping people understand that we're not just talking about geeky tech toys of the future, but rather a way of life.
The Smart Home concept is that you can control and/or monitor your lights, appliances and security system from your smartphone, tablet or simply using your voice! As home automation technology advances, automation systems get more powerful yet easier to use.
Top 10 Smart Home Automation Applications
Get a notification alert when a door is unlocked, when kids come home, spouse arrives from work, or workers are on site
See who's at the door to your home or business from anywhere in the world, and have a two-way conversation
Turn lights and appliances on and off using your voice, wall scene controllers or smartphones/tablets
Receive an email or text alert in case of water leaks, doors opening (including things like gun safes perhaps), power failures
Automatically turn off the water in case of a water leak
Receive an email or text in case of security, carbon monoxide detection or fire alarms
Enhance security and save energy by turning lights on at dusk, off at dawn or turning lights and electronics off when a room is unoccupied
Turning lights and appliances off, and adjusting the heating/AC when leaving home
Turning up the heat or AC when we're on the way home or once we arrive
Remotely arming, disarming alarms, checking video footage, checking to make sure the door is locked - from anywhere
These are just some examples of what is already possible with today's smart home automation systems. Granted, not everyone wants, needs, or expects the same out of their home automation system. An older couple may simply want a way to turn on the lights from bed to get to the bathroom, or to turn on the house lights from the bedroom if they hear a noise. Cottage and remote property owners may want a way to make sure their place is safe and secure or cozy by the time they get there. Also, the insurance company might want to ensure a property is safe and protected, and not suffering from water leaks or freezing temperatures.
So the question is - how does one start to build their ideal home automation system?
How to Build Your Ideal Home Automation System
For starters, think about what convenience you're after or what problem you're trying to resolve. Talk to your family or others on the property to see what would impact their daily lives to make them feel more secure or for convenience. Think of daily routines when coming home or leaving. Eg. you come home, unlock the door, turn on some lights, play your favourite radio station.
Decide if you want to start small or go big with your smart home. Do you have the time and energy to research technology and product choices and learn how to program and install the system? Are you confident about learning how to program and install a home automation system?
For example, if you're the type who gets their kids to show you how to use a new phone, you might want to enlist some help. Or if you tend to hire someone to paint instead of doing it yourself - maybe you should talk to a pro about home automation. If you are not experienced with technology or expect the answers to already be there when you open the packaging, you need to hire someone.
Fortunately, the customer service and technical staff at Aartech can help by answering questions, coordinating your system, and making sure the pieces fit together. But don't worry, as a do-it-yourself project, you are still the decision-maker, the team lead, and the project manager.
So if you're up to a do-it-yourself project, give some thought to what you'd like to accomplish, do a bit of homework, ask some questions, and the results should be very rewarding.
Smart Home Technology Overview
The most popular smart home technologies today for do-it-yourself home automation are ZWave, Zigbee and WiFi. These technologies are readily available and offer the berst bang for the buck overall, plus they have support from a number of major vendors.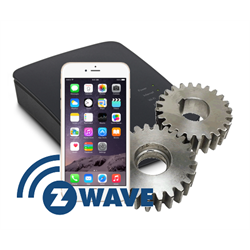 ZWave is entirely wireless and is supported by a huge number of technology companies including GE, Linear, Leviton, Cooper, Weiser, Yale, Schlage, Resideo and more. Plus it is well supported by most alarm companies like DSC, Honeywell, Alarm.com and more. ZWave requires a 'primary controller' to set up the system. This is either an alarm system, smart home hub or USB interface for computer-based systems. ZWave is very well respected and has proven to be reliable. ZWave is a wireless mesh network so as more devices are added, the network tends to become more robust as devices can repeat the signals to improve range. Adding a smart hub can also add Alexa or Google voice assistant support.
ZWave is a great choice for security and smart home automation due to it's huge manufacturer base and reasonable prices. Zigbee devices connect locally to the smart home hub so they will all continue to function when WiFi stops working or the Internet goes down.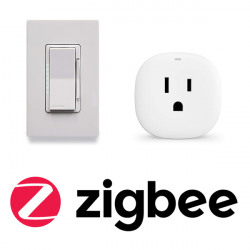 Similar to Z-Wave, Zigbee is a wireless mesh network technology. Zigbee 3.0 devices are interoperable from one brand to another. Over 300 companies are part of the Zigbee Alliance. Zigbee 3.0 devices are lower power and well suited to run on batteries but still have a good wireless range. Many smart home hubs like SmartThings or Hubitat have built-in Zigbee support, as do some select Alexa devices. Adding a smart hub can also add Alexa or Google voice assistant support.
ZWave for smart home automation due to it's wide manufacturer support and low prices. Zigbee devices connect locally to the smart home hub so they will all continue to function when WiFi stops working or the Internet goes down.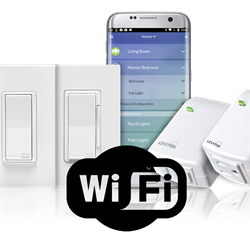 Starting in late 2018 we've seen an increase in WiFi smart home devices. Instead of using a proprietary technology like ZWave or Zigbee, these devices link to the home's WiFi network for communication. The benefit is that WiFi is already in most homes and it's a technology anyone can implement. There are some caveats - make sure your home has a strong and reliable WiFi network. For larger WiFi smart home installs or for pro installs we recommend installing a high quality WiFi network just for smart home devices.. While WiFi is a standard - don't assume all WiFi devices will talk together because each vendor makes their own app and cloud service. If you're looking for more than basic on/off times and control with your smartphone or voice assistant you may want to use a smart hub and in that case, you need to confirm that the hub supports a wide range of WiFi devices. For example at time of writing, SmartThings hubs support Leviton Decora Smart WiFi devices.
Insteon Smart Home Automation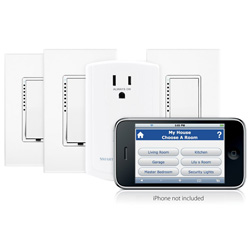 Insteon devices designed and manufactured by Insteon - a SmartLabs company. Insteon combines both AC powerline communications as well as RF/wireless to create a very strong and stable 'mesh network'. Hard wired devices act as repeaters automatically so the more you add, the strong the system becomes. In-wall keypads have a great look and feel as do wall switches and dimmers and they're very easy to program. Insteon can actually be used without any automation hub so it makes a good choice for scene lighting and to solve wiring problems. At time of writing, Insteon's smart home hub has been discontinued so this technology is aimed mostly at local scene lighting.
Smart Home Hubs
The home automation hub helps bring disparate devices and systems together, all under the control of a single app. Schedule on/off times, set up triggers like turning on lights when a door opens, locking the door when you leave, etc. based on a smartphone app, geolocation or Bluetooth tagging. Generally speaking, a hub is needed for any sort of advanced automation beyond simple timers. Most smart hubs also support integration with Alexa and Google voice assistants so you can command your home with just your voice for added convenience.
These are the most popular hubs we're currently offering:
Ezlo Plus, Ezlo Secure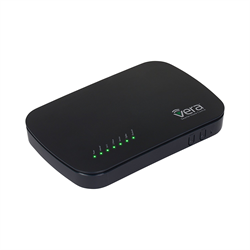 Ezlo (formerly Vera) is a very well-respected smart home comapny. Their Ezlo Plus and Ezlo Secure hubs support Zwave, Insteon and network/WiFi devices. With over 1000 Zwave and Zigbee devices supported out of the box, this is a very powerful system. Ezlo hubs support single devices, scenes, timers, triggers and even advanced programming. Functionality can be expanded by adding free software 'plug-ins' or API integrations. Ezlo's cloud service can send email or text alerts and works with Google Home and Alexa voice assistants. These hubs are inexpensive and very powerful. Ezlo Plus supports ZWave Plus and Zigbee. Ezlo Secure offers the features of plus as well as supporting 2Gig security sensors. Ezlo Secure can use ZWave or 2Gig sensors to build an alarm system with arming and disarming and remote alerts. Ezlo controllers store their programming locally but they do need the cloud for initial setup and alerts.
Homeseer and Hometroller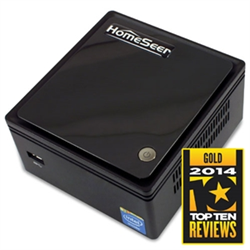 Homeseer software was voted #1 by TopTenReviews and is primarily designed around Zwave, with some free and mostly paid software plug-ins to allow integration with alarm systems, other technologies like Insteon, even AV equipment. The Hometroller series combines a self-contained mini computer (hardware box) that runs Homeseer inside. It is higher on the 'techie' scale but very powerful. Homeseer has also developed many of their own branded devices with enhanced features. It's a powerful system worth considering. Homeseer/Hometroller has all the programming stored locally so the system is not dependant on a working cloud.
SmartThings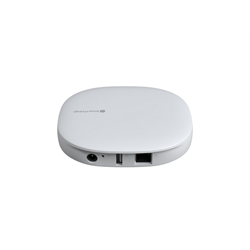 The SmartThings V3 Hub is very simple to install and use. Originally manufacturered by Samsung, the hubs are now made by Aeotec using the SmartThings cloud service. All setup is done using the iOS or Android apps, as is the daily operation and control. SmartThings works with their own 'Things' as well as supporting a wide range of ZWave and Zigbee devices as well as network-based products. As a SmartThings company, you'll see integration with Samsung's smart TVs and appliances as well. SmartThings does run some routines locally but many of the triggers, events and devices use the SmartThings cloud so they work only as long as the Internet connection is up.
Hubitat C7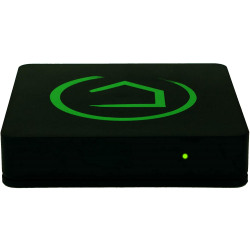 The Hubitat C7 packs an amazing amount of power in a tiny package. It has built in ZWave and Zigbee support plus it can also work with IP/Wifi devices. Hubitat takes a different approach to automation by making everything local first and then adding support for cloud integration and administration. All programming is stored on the hub. It works with Google and Alexa voice assistants and supports a wide range of user and Hubitat created plug-ins to expand functionality. Hubitat takes more time to learn and set up initially but offers amazing flexibility in return.
Smart Home Automation Online Store in Canada
Smart home automation has moved from geek town to mainstream. it's no doubt going to be very exciting to watch as companies try to take their piece of the automation pie. The good news for consumers and installers is that new products are being released almost daily and competition means lower prices. Home automation is now very affordable for anyone including both do-it-yourself and professional installers.
One last key thought: If you are going to create a do-it-yourself smart home, consider where you buy the product.
Does the seller offer pre- and post-sales technical support?
Should something happen, do you send your product back locally for warranty or do you have to send it back to the vendor in another country?
Does the vendor have any history or experience in the field to help guide a newbie?
If you shop in another country, what is the cost of shipping, duties, brokerage and possible return costs in case something breaks? It's nice to walk into the local big box store... but can they really help you when you need it? Often, they cannot.
Aartech Canada has been working with homeowners and professional installers since 2002. We offer pre- and post-sales support, and warranty support for most of our products through the entire warranty period - not just 30 days. This is the Aartech Advantage!
Have fun with your home automation system and feel free to write with any comments or questions!